The Rolls Royce Service Center Of Choice In Dubai
Every single car manufactured by Rolls Royce speaks volumes about the brand's dedication towards delivering utmost luxury, unmatched craftsmanship and unbeatable automotive comfort. The vehicle has never failed at drawing envy for its superior comfort, beauty and performance. If you truly want your vehicle to keep delivering the performance it is known for, then it is highly recommended for you to have it regularly checked out and maintained by a trusted provider of Rolls Royce service in Dubai – and if that's what you are interested in, then you can trust the team at German Auto Care to deliver the finest diagnostic, tuning, repairing and maintenance services!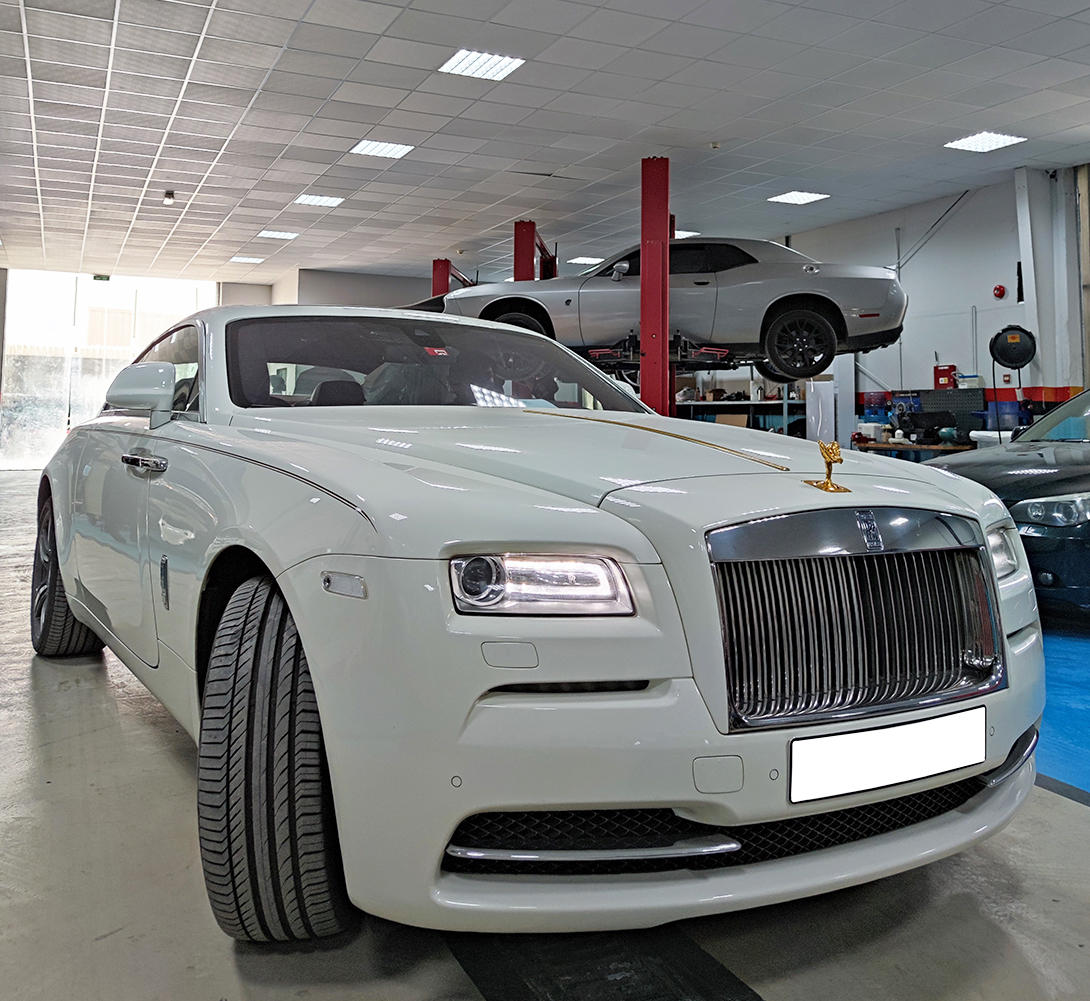 A Highly Reputed Rolls Royce Service Center In Dubai
Located at 25th St, Al Quoz 4, German Auto Care holds a specialty in servicing the most extensive range of German brand automobiles, including Rolls Royce. We hold a reverence for perfection, and ensure that our clients leave our workshops completely satisfied with the quality of services delivered to their vehicles.

With a highly skilled and experienced team of Rolls Royce specialists, we are here to ensure that every single system, component and part of your prized vehicle is working perfectly. Whether your car requires basic maintenance, needs extensive diagnostics and repair, or just needs a bit of detailing and wheel alignment, we are here to assist you as best as possible while also ensuring that the integrity of your automobile is never compromised.
Give Royal Repair Treatment to your Rolls Royce
Rolls Royce is the emperor of the motoring world. This British Luxury car brand has made its presence felt around the globe for its high end features, unique design, unmatched craftsmanship and unbeatable automotive comfort. In fact, Rolls Royce has redefined luxury. Due to the astronomical price tag, only few customers afford Rolls Royce. Hence, only expert specialists have the right to repair any technical snag. German Auto Care is a leading Rolls Royce service center Dubai, known for providing excellent diagnostic, tuning, repairing and maintenance services.

Our team is fully certified to handle this super-luxurious brand. The mechanics of German Auto Care wholeheartedly dedicate themselves to provide the customer satisfaction of the highest level. Acquiring customer trust is never easy. Our technicians keep abreast of the latest emerging techniques. At our Rolls Royce service center Dubai, we give necessary attention to every section of the vehicle. We make sure that your high-value possession always attains attention of others and delivers impeccable performance.

It is not easy to retain the classy appeal of the Rolls Royce car. If you want to continuously enjoy the bliss of riding your supercar then perhaps German Auto Care is the best place.

Some additional reasons to select German Auto Care, the best Rolls Royce service center Dubai.
Fair and transparent working system
Swift and dependable servicing
Ensuring customer satisfaction at all costs
Sharing transparent quotations and taking approval prior commencing any work
German Auto Care provides complete Rolls Royce maintenance and repair solutions. Our service includes:
Transmission repair
Brakes repair
Suspension repair
Steering repair
Transmission repair
Brakes repair
Suspension repair
Steering repair
With several years of rich experience, we can effectively fix issues of your Rolls Royce models and successfully handle all your maintenance needs, whether big or small. Feel free to contact us to learn more about Rolls Royce service center Dubai.
Schedule An Appointment Today
If you wish to benefit from cost-effective, professional and specialized services for your treasured automobile, then make sure that you visit our workshop right away. Get your vehicle serviced by trusted experts – please feel free to book an appointment by calling us at +971 4 338 4535 today!