Visit Our Fully-Equipped Porsche Service Center In Dubai Today
Porsche is one of the most famous German auto brands known to manufacture some of the finest vehicles around. Whether it's the Cayman GTS or the classic Porsche 911, the name of the manufacturer is synonymous to sheer excellence, class and style. For the owners of these speedy machines, ensuring adequate upkeep of their vehicles is a must. If you need assistance with Porsche service in Dubai, then there is one name in the market that you can trust – German Auto Care.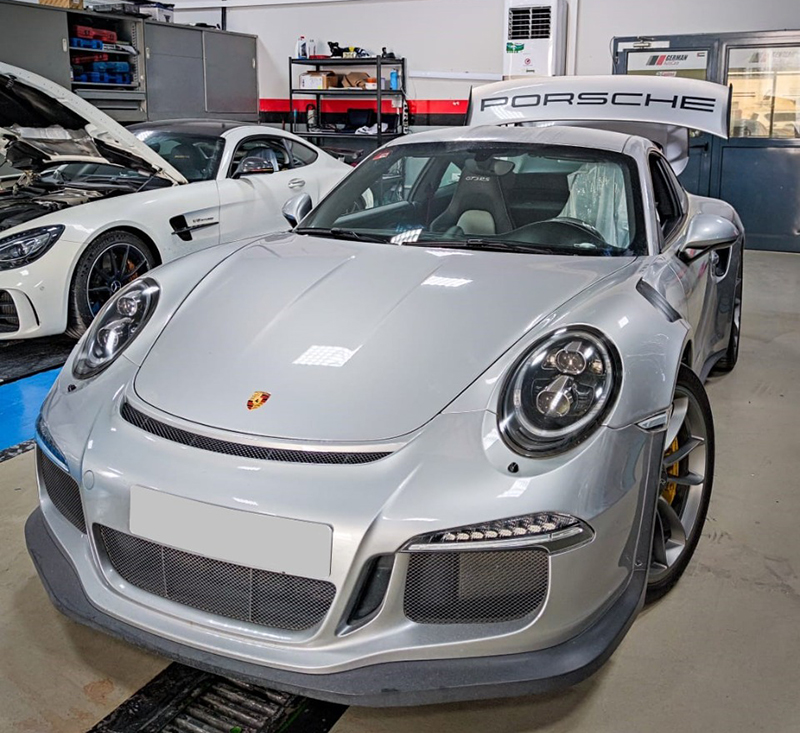 A Porsche Service Center In Al Quoz That Is Trusted By Many
Located on 25th St Al Quoz 4, German Auto Care boasts of an outstanding team of top-notch specialists and technicians who hold a specialty in maintaining, tuning and repairing all Porsche models. Our team possesses the knowledge, expertise and experience required to ensure that your prized vehicle keeps performing at its best on the roads.

From us, you can expect to receive the most extensive range of Porsche services. From basic Porsche suspension repair in Dubai to thorough checking of the engine to extensive repairs, we can handle it all. Upon entrusting your vehicle with us, you can be assured that all repairs, tunings and alterations will be carried out as professionally as possible to ascertain that the highest service standards are met. We understand that your vehicle is your pride and joy, and will go the extra mile to ensure that it is back on the roads in no time. To add to our credit, all diagnostics, repair and maintenance jobs are carried out at German Auto Care using the most advanced equipment and machinery.
Get the Best Mechanical Care for your Porsche
German auto industry is exceptionally famous around the globe for its fine quality. Some of the most sought after vehicle models are Germans. Porsche is one of the leading brands. Classic Porsche 911 and Cayman GTS are some of the newest additions. Class, style, power and excellence have become synonymous with Porsche. Owners of such speedy models must adequately maintain their vehicle to get top performance. If you are searching for the best Porsche service center Dubai, perhaps the best name is German Auto Care.

Porsche and other German cars are finely tuned. These supercars are designed to talk with winds. As the owner of one of these finely tuned machines, it is your responsibility to properly maintain the vehicle with the assistance of best Porsche service center Dubai, German Auto Care. Our specialists have the exact set of technical knowledge that makes sure your Porsche meets your expectations.

Don't worry about any aspect because our specialists can repair, alter, tune, modify and refurbish the appeal of your vehicle as per highest professional standards. We are familiar with the anatomy of all models, from oldest to newest. German Auto Care fully understands that Porsche is any owner's pride and joy. It is the capability of German Auto Care that makes us an unsurpassed Porsche service center Dubai. We sincerely examine the whole vehicle and determine the necessary evaluation works.
Let us take a look at our Porsche Dubai service center:
Auto mechanical engineering
Auto air-conditioning repairing and maintenance
Auto electric repairing
Auto rust proofing service
Auto accessories fittings
Auto maintenance service
We have all necessary diagnostic tools and equipment that normally used in a typical car service center. A quick and accurate diagnosis helps in resolving issues. Porsche is not an ordinary car. So, it requires a fine degree of tuning to ensure the sophisticated components deliver the high performance results for which Porsche is admired for. We only produce affordable repair bills. It is our assurance that your car will never bring you any disappointment.
Schedule An Appointment Today
To benefit from our extensive range of services, please feel free to book an appointment by calling us at +971 4 338 4535 today!