Looking For A Mercedes Service Center In Dubai? Visit German Auto Care Today!
If you own a Mercedes, then it is vital for you to acquire the services of a trusted Mercedes specialist to ensure that your vehicle performs at its best. Your car deserves to run in peak conditions and this is something only a professional and highly specialised Mercedes Benz service center in Dubai can guarantee. If this is what you are interested in, then a visit to German Auto Care is due on you.

At German Auto Care, we believe our customers should be able to benefit from top quality services. It is for this reason that we have dedicated ourselves to delivering nothing but excellence and precision in every single repair and maintenance job that we undertake. This passion and dedication is one of the basic reasons why we are known in the market as a leading provider of world-class German vehicle repair and maintenance services.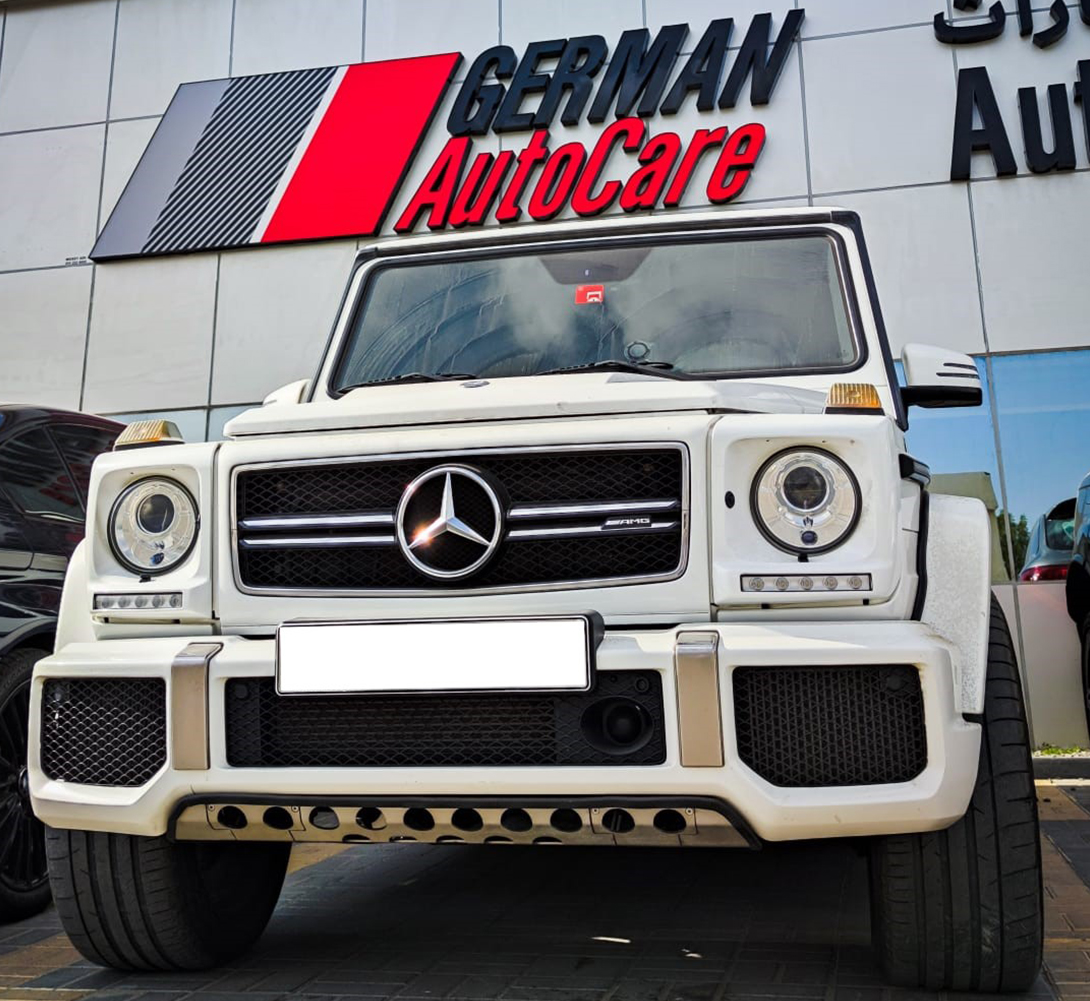 Benefit From Our World-Class Mercedes Service In Dubai
The team at German Auto Care boasts of the most extensive range of services and solutions pertaining to vehicle repair and maintenance in Dubai. Whether you need basic maintenance services for your Mercedes Benz or need more intricate diagnostic and repair solutions, we are here to serve you in the most professional and timely manner possible.

Our team of expert technicians and specialists put in the time and effort required to diagnose the issues in your vehicle using the latest diagnostic tools and equipment. After that, we will give recommendations and offer an accurate quote on service and parts. So if you are on the lookout for a service center that can assist you with extensive repairs and basic maintenance, then make sure that you visit our workshop right now!
German Auto Care - We Improve the Performance of Mercedes Car
In the last few decades, vehicles have become an indispensable requirement for residents of UAE. After Obtaining possession of a vehicle, it is extremely important to keep the vehicle in fine working condition. The car owners must take precautionary measures and ensure good condition of the vehicle, especially if it is an elite model like Mercedes.

German Auto Care is a leading Mercedes Benz service center Dubai. Without regular maintenance, serious mechanical faults are likely to appear. Our technicians regularly inspect and maintain the vehicle to reduce chances of any unfortunate happening or sudden breakdown. Ensuring the safety of vehicle owners is the biggest concern for us. Periodic maintenance should be never neglected even if you are the owner of an elite class vehicle such as Mercedes, Audi, BMW, etc. Our Mercedes service center Dubai aims to shield you from unnecessary inconvenience. So, if you are searching for a reliable Mercedes Benz service center Dubai, look no further than German Auto Care.
Reason to trust our Mercedes service center Dubai:
Fully equipped to meet all maintenance needs
Presence of well-trained, specialized technicians
Use of genuine, compatible Mercedes spare parts and other accessories
Advanced diagnostic tools and equipment
Professionalism and honesty are our core principles
Profound knowledge about anatomy of Mercedes models
A Mercedes car requires proper care and maintenance. Timely inspection ensures engine efficiency. Our expert staff is fully competent to meet your maintenance needs. Our experts are fully competent in providing care and maintenance for different types of models. We also give a new life to damaged vehicles by fixing issues of scratch removal, denting and painting.

Your Mercedes can get a full service life extension at the gate of German Auto Care. We conduct thorough inspection of all sections of the body -


High quality lubricants
Oil change and filtering
Complete inspection of tires, engine, battery, radiators, replacement radiators
Lightning systems, wiper blades, air conditioning system and suspension joints
General maintenance and replacing faulty spark plugs
Resolving all types of mechanical and electrical issues
Feel free to contact our Mercedes service center Dubai to continuously enjoy the ride of your supercar.
Schedule An Appointment Today
To benefit from our extensive range of services, please feel free to book an appointment by calling us at +971 4 338 4535 today!